A pioneer of musical theatre dance, de Mille's choreographic style legitimized narrative dance as an accepted convention of the book musical. De Mille's character-based choreographic style redefined the role of dance in musical theatre. Her technically and emotionally demanding choreography elevated the standards for Broadway dancers, usurping the mindless showgirl and introducing the dancer-actor. Her far-reaching influence fostered new approaches to developing dances for the musical stage. She is the first individual credited as both director and choreographer of a single Broadway production with her work on Rodgers & Hammerstein's Allegro. In addition to her pioneer work in musical theatre, de Mille is a founder of the burgeoning genre of American ballet. Her introduction of American styles and concepts into traditional European ballet revolutionized the art form, inciting shock and awe in audiences and critics alike. Her work as an arts advocate, labor organizer, dance historian, and prolific author greatly enriched the American cultural landscape.
Agnes de Mille was born on September 18, 1905 in the neighborhood of Harlem in New York City. Her father, William de Mille was a famous Broadway playwright and screenwriter in the early days of silent film. Her mother Anna George was the daughter of single-tax advocate, Henry George. When Agnes was nine, the family moved to Hollywood to join William's brother Cecil B. de Mille, a famous film director. As a child, de Mille found creative outlets by studying piano and staging amateur dramatic performances in which she also performed. At age 10, Agnes had a rare opportunity to perform on film in The Ragamuffin, directed by her father. Her early aspirations as an actress were soon squelched after being told she wasn't "pretty enough."
De Mille's fervent interest in dance began at an early age, much to her parents' dismay. After seeing Anna Pavlova perform in 1918, de Mille's desire to study dance intensified. Her parents did everything to dissuade her from what they viewed as an unsuitable activity for a young lady. Agnes finally received permission to dance when an orthopedic doctor prescribed ballet lessons to Agnes' sister Margaret to correct her fallen arches. De Mille experienced difficulty in her early ballet training for she did not possess the lean sylph-like physique of a classical dancer. De Mille worked tirelessly to overcome her physical challenges in addition to her late start as a dancer. 
Responding to pressure from her father, Agnes gave up dancing and attended the University of California Los Angeles as an English major, graduating with honors in 1926. Around this time, her father and mother divorced. De Mille then moved to New York with her mother and sister. Unable to find employment opportunities as a dancer, she choreographed and performed in a series of solo recitals—also arranging the music and designing the costumes. In 1932, de Mille was hired to choreograph Flying Colors, a Howard Dietz and Arthur Schwartz revue, her inexperience led to many errors and ultimately to her termination from the project.
After the failure of Flying Colors, de Mille moved to London. Financial security eluded her as she struggled to make a living as a dancer and choreographer in the darkest days of The Depression.  Throughout the 1930s, de Mille devoted herself to strengthening her dance technique and choreographic abilities. She trained with Marie Rambert at the Ballet Club where she met emerging choreographers Frederick Ashton and Anthony Tudor. In 1933, she choreographed the dances for Charles B. Cochran's production of Nymph Errant starring Gertrude Lawrence.
De Mille returned from London in 1938, at the eve of World War II. At age 32, de Mille was penniless and unemployed. A change of fortune occurred when de Mille was offered a position as a charter member of Ballet Theatre (now American Ballet Theatre) in 1940, where she shocked the dance world with Black Ritual (1940). Although the ballet was not a commercial success, it marked the first appearance of black dancers in a major ballet company. Further establishing herself on the American concert stage, de Mille restaged her 1934 ballet entitled, Three Virgins and a Devil at Ballet Theatre. De Mille solidified her reputation as a burgeoning American choreographer with Rodeo (1942) produced by the Ballet Russe de Monte Carlo, and boasting a score by composer Aaron Copeland. The movement vocabulary of Rodeo exemplifies de Mille's signature Americana style, built upon the riding and roping techniques of cowboys of the Old West. At age 37, de Mille danced the leading role in the original production at the Metropolitan Opera House, receiving over twenty curtain calls.
The prodigious success of Rodeo led to an invitation to collaborate with Richard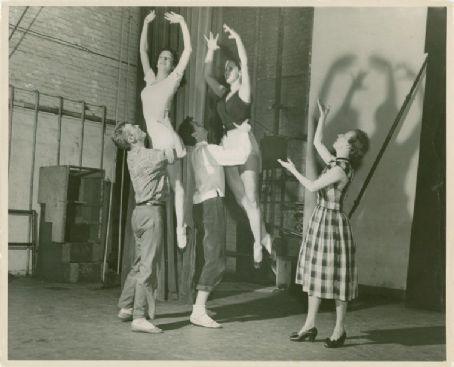 Rodgers and Oscar Hammerstein II on Oklahoma! (1943). In the production, de Mille employed an approach to choreography as costuming, developing a movement vocabulary inextricably linked to time and place. With the creation of dances that served as crucial elements of plot, character, and theme, de Mille elevated the role of dance in the American musical. The dream ballet "Laurie Makes Up Her Mind" is one such example, and holds a preeminent position in the musical theatre dance canon.
Following the monumental successes of Rodeo and Oklahoma!, de Mille reigned as the best-known Broadway choreographer of the 1940s and 1950s. She went on to create narrative, integrated dances in hit musicals such as Kurt Weill's One Touch of Venus (1943), Bloomer Girl (1944) in which her moving "Civil War Ballet" garnered great critical acclaim, Carousel (1945), and Brigadoon (1947). De Mille became the first individual credited as a director-choreographer with an ambitious production of Rodgers & Hammerstein's Allegro (1947). The creative team was bitterly disappointed by the final product although the production ran for 315 performances.
Working consistently throughout the 1950s with Lerner & Loewe's Paint Your Wagon, The Girl in Pink Tights (1954), Goldilocks (1958), and Juno (1959), de Mille continued to hone her craft of using dance as text. In 1954, Agnes de Mille choreographed the film version of Oklahoma!. Several musicals originally choreographed by de Mille were adapted into films; however, Oklahoma! marks the sole occurrence in which de Mille choreographed the film adaptation of a musical she originally choreographed for the Broadway stage.
In addition to her accomplishments as a dancer, choreographer, and director on the Broadway stage, de Mille was an eloquent speaker and accomplished writer. Her interest in preserving the American dance heritage and her desire to work with young people led to the establishment of the Heritage Dance Theatre at the North Carolina School of the Arts. Her numerous awards include the New York City Handel Medallion (1976), and the Kennedy Center Honor (1980).
In 1975 she suffered a stroke but continued to write and publish books. She restaged Oklahoma (1979) on Broadway, and her lecture series Conversations about the Dance aired on PBS. She remained active as an arts advocate throughout her life. At the time of her death in October 1993, Agnes de Mille was still an influential and productive cultural leader.
reprinted with permission from 
Ellis, Roger. "Choreographing America: The Narrative Style of Agnes De Mille." Teaching the Theatre Dance Repertory: A Study in Style. San Diego: Montezuma, 2012. 31-34. Print.